Minneapolis and St. Paul have a long and storied LGBTQ+ history.
May 14, 2022
Twin Cities Pride is saddened by the decision by OutFront Minnesota not to participate in the 2022 Pride Festival and by the accusations made against our non-profit.
Like so many organizations, Twin Cities Pride has been working internally to address the issues identified through conversations with our community and highlighted by people in our organization. Recently, we've restructured our Board of Directors to include more transgender voices and are actively working to include more BIPOC voices, we partnered with MN POC LGBTQ+ Pride and Queer Black Excellence to create programming and financial opportunities for Black LGBTQIA+ community members during the COVID-19 shutdown and are consistently working to be a central resource and sounding board for the local Pride community. We acknowledge there is more work to be done, and we are focused on evolving as an organization.
We know the most upsetting issue for many members of our community is the presence of police officers at our Pride March. A Minneapolis ordinance mandates a city police presence at events as big as ours. The Pride March impacts traffic, and we are legally required to have police and traffic enforcement in place for the safety of participants and spectators. In an effort to ease community concerns, we incorporated de-escalation and harm reduction training into our park security and for all organizational leadership, staff and volunteers. We will continue to do everything in our power to address this issue, however we strongly encourage our community to speak out and share concerns with the city leadership.
To keep the leading essential services for our community connected, Twin Cities Pride Executive Director Dot Belstler reached out to OutFront Minnesota during their leadership transition in both June and July of 2021.
Regretfully, those messages went unanswered, and we did not receive interest in participating in the 2021 Festival. OutFront Minnesota is the activism arm of the LGBTQIA+ community in the state and Twin Cities Pride understands the importance of a united voice on issues affecting us. We welcome a conversation with OutFront Minnesota's new Executive Director Kat Rohn to start the process of reconnecting our groups.
We always encourage our community to participate in any and all avenues of Pride in the Twin Cities and in Minnesota.
Dot Belstler, Executive Director
Felix Foster, Board Chair Twin Cities Pride
We have added the ability for Community members to submit new events to our Events Calendar!
You can find the link to submit your event under the "EVENTS" tab on our main website menu

, click here.
March 22, 2022
Earlier today, our long-time Executive Director Dot Belstler announced she will be retiring from Twin Cities Pride. She will be with the organization until the end of September.
Dot steered this organization for more than a decade. Much has changed for the better, but there is still work to do in the fight for equality for our LGBTQIA+ community.
That is why we are starting the search for our next executive director now. This search is not going to happen without input from the community. We want to hear from you.

In the meantime, we will start accepting applications and begin reviewing resumes. If you or someone you know is interested in applying for the position please send resumes to [email protected]. We are also accepting applications for new board members. If you are interested in joining our board, email Felix Foster at [email protected]. During our Pride weekend this year, we will have a booth dedicated to getting input from you. We will be hosting listening sessions. We want the next leader of Twin Cities Pride to reflect where we are going as an organization and as a community.
We will keep you updated on the search process as we move forward.
Thank you,
Felix Foster
Board Chairman
March 22, 2022
To the Twin Cities Pride family,
During the last 13 years, I have learned Twin Cities Pride is unlike any ordinary non-profit organization. That is because everyone from our Board of Directors to our volunteers to community members who support us through our events act as stewards for our mission. As a group, we strive to be a place for LGBTQIA+ people to find family and acceptance.
Leading this organization for more than a decade has been the honor of my professional career. But, it is time for me to pass the baton to someone else. I will be retiring from my position as executive director of Twin Cities Pride at the end of September.
As we celebrate the 50th anniversary of the first Pride March in Minneapolis, I'm reminded that the work for equality has been relentless. That work must continue. My hope is that Twin Cities Pride's mission of empowering every LGBTQIA+ person to live as their true self is realized. We see you, we love you, you are not alone.
I'm proud of the work being done by Twin Cities Pride to keep issues for the greater LGBTQIA+ community at the forefront of the fight for equality in this city, this state and this country. Each year leading this organization was a chance for me to learn and grow with the community that Twin Cities Pride serves.
The Board of Directors at Twin Cities Pride will start the search for the next executive director and more information on that will be coming out soon.
Thank you,
Dot Belstler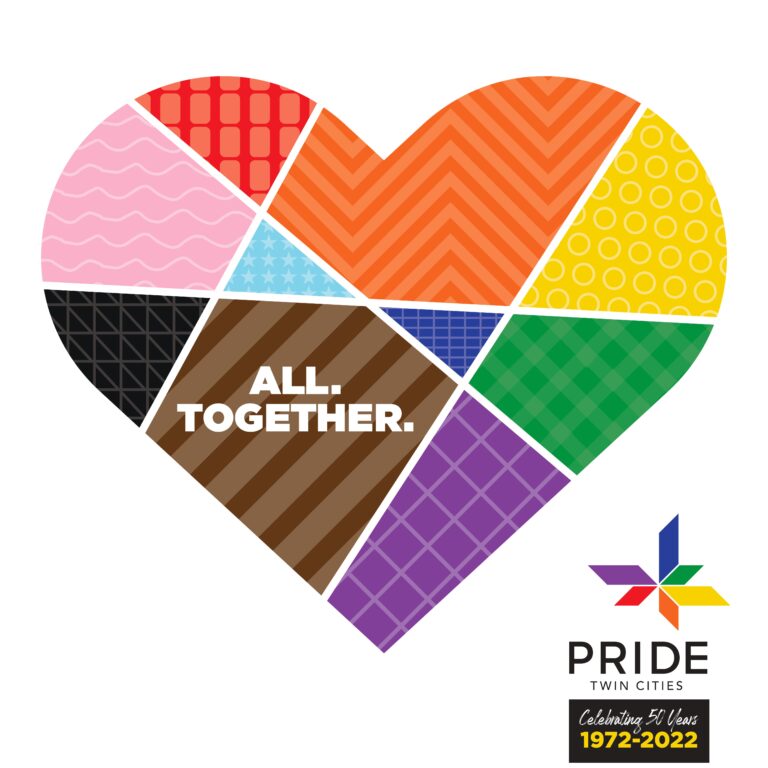 Our You Are Included sign has two sides.
Artwork by Pernsteiner Creative Group.
Signs are 18″x18″ square and are made of weather-resistant plastic.
Share your sign using #TCPride2022 to be featured on Social Media!