Just Pickles Pride Tournament presented by Lucky Shot
June 24 @ 10:00 am

-

4:00 pm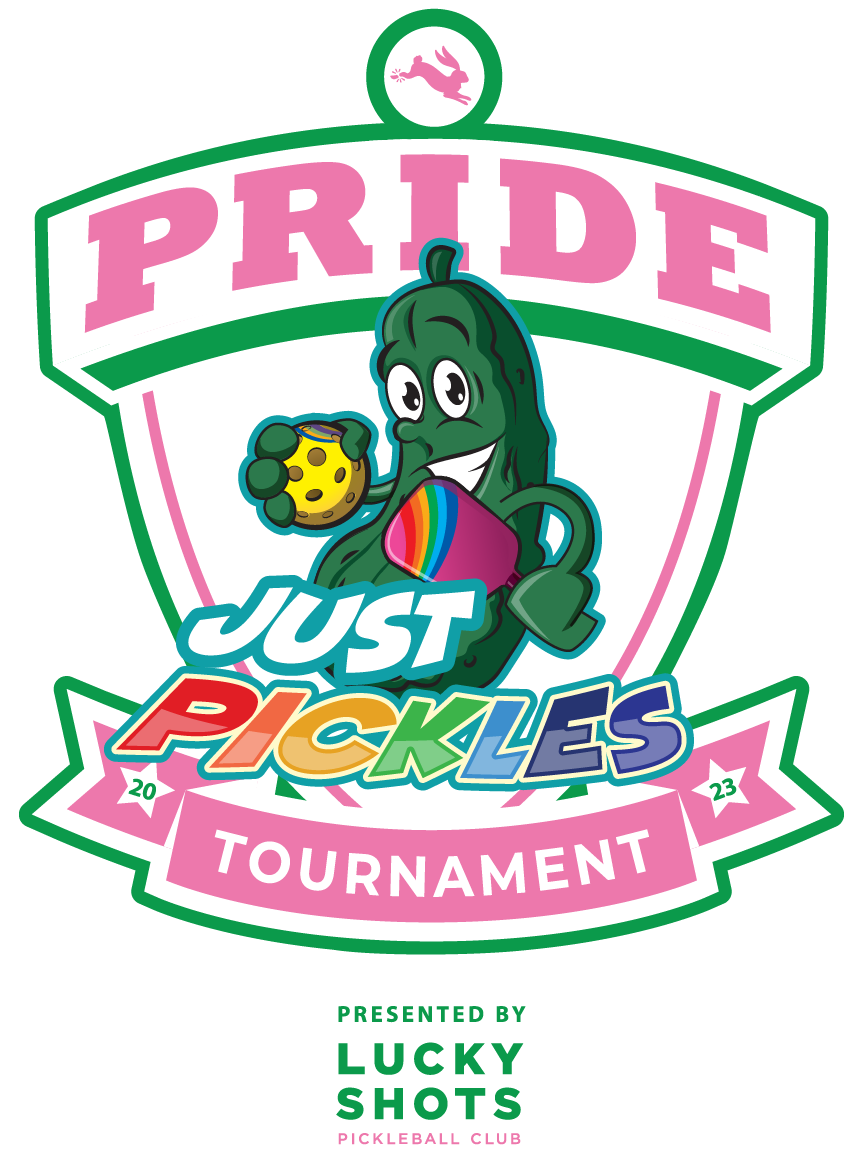 Just Pickles Pride Tournament presented by Lucky Shot Details and FAQ
Just Pickles is a Minneapolis-based pickleball sports league using sportsmanship to create friendships within the LGBTQIA+ community.
To learn more about Just Pickles, follow us on Instagram @just.pickleball
Registration Opens: May 20, 2023 at 10:00 am
REGISTER HERE
Players may sign up individually or with a team. If signing up individually a partner will be assigned for the tournament. Cost is $30.00 per person. This includes 1 registration and a tournament T-shirt.
Date: Saturday, June 24, 10:00 am – 4:00 pm
Location: Loring Park Tennis Courts, Loring Park, Minneapolis
Timeline:
9:00 am – 10:00 am Check-in, Open Play
10:00 am -1:00 pm Social Tournament (2.0-3.5 DUPR rating)
1:00 pm – 4:00 pm Competitive Tournament (3.5+ DUPR rating)
Number of Courts: 16 regulation size outdoor courts
Number of Players: 128 players total.
64 players in the Social and 64 in the Competitive
Tournament Play:
Each team will play 3 "pool play" matches. Each of these matches will be played to 15, normal scoring OR the team leading after 20 minutes of play. After the Pool Play, teams will be sorted into a Upper and Lower single elimination bracket.
Prizes:
The winning team of the Upper Bracket in the Competitive Tournament will win $750.00 in cash and prizes.
The winning team of the Upper Bracket in the Social Tournament will win $500.00 in cash and prizes.
The winning teams of the Lower Bracket in the Social and Competitive Tournaments will each win $250.00 in cash and prizes.
Frequently Asked Questions:
Can I invite my friends? You bet! We'll have bleachers set up for 100 people and a 30 foot tent. Socializing is highly encouraged!
Do I need a Partner? Nope! you can sign up individually or as a team.
Do I need a Pickleball Paddle? Yes, paddles will NOT be supplied.
Will balls be provided? Yes, pickleballs will be provided.
Is there a place to change? No, there will not be showers, lockers or otherwise a place to change. Please pack accordingly.
How do I know which division I would be best suited for? Generally speaking, if you play regularly, are proficient at serving, scoring and dinking, you're probably ready for the competitive league. If you are a Just Pickles league player and are in the Upper bracket at the end of the league you too would qualify for the Competitive Tournament.
COMMUNITY EVENT DISCLAIMER: The Twin Cities Pride Event Calendar is provided as a community service. Though the calendar is moderated for posting acceptable community events, Twin Cities Pride does not endorse nor warranty the accuracy of the information included for community events. Attendees assume any and all risks associated with attending these events.