Minnesota Leather Pride Flag Photo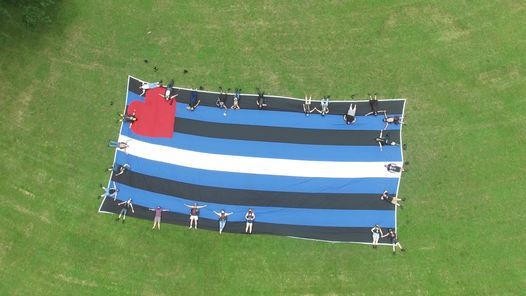 Earlier this month, the Minnesota Leather Pride board approved a plan to invite the community to gather for a photo with the Minnesota Leather Pride flag. If you would like to be part of the photo, we are inviting you to join us!
Minnesota Leather Pride Flag Photo
Saturday, June 26th – there is a backup (in case of rain) date of Sunday, June 27th
We will gather at 11 a.m. with the photo scheduled to be complete by noon.
Location:
We will be in the large field at Theodore Wirth Parkway and 26th Avenue N. There is a small parking lot located there, and street parking on Xerxes Ave N and Vincent Ave N.
We have a volunteer drone photographer helping again this year and we hope to get a photo similar to the one we had last year, but we would like to see more people! So share this post with other leather / kink folks and help spread the word!
COMMUNITY EVENT DISCLAIMER: The Twin Cities Pride Event Calendar is provided as a community service. Though the calendar is moderated for posting acceptable community events, Twin Cities Pride does not endorse nor warranty the accuracy of the information included for community events. Attendees assume any and all risks associated with attending these events.